Trends in Biochemical Engineering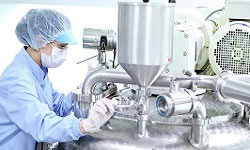 Submit Abstract
Register Now
This session focuses on the topic of biochemical engineering, which says that it is the branch of chemical engineering which deals with the designing and manufacturing of the different unit operations involving biological material or living organism. It involves the application of chemical engineering methods and approaches to industrial operations which entirely based on the biological elements.
Main application of biochemical engineering are in petrochemical industry, food processing, pharmaceutical companies, biotechnology, and water treatment industries.
The global market for bioproducts is $466.6 billion in 2016 and it may reach $714.6 billion by 2021 from a compound annual growth rate (cagr) of 8.9%, from 2016 to 2021
In the past few years, the process of large-scale bio-manufacturing has become more practical owing to advancements in technology and the easy availability of machines large enough to produce significantly high volumes of biologics due to progress in expression systems, cell and organ generation, and batch cultures. These advancements have boosted the requirement for equipment as demand for small volume and multiproduct capabilities have enabled facilities to adjust unit operations based on demand without incurring wastages and additional expenses.
Related Conference of
Trends in Biochemical Engineering
Trends in Biochemical Engineering
Conference Speakers
Recommended
Sessions
Related
Journals
Are you
interested

in